AUDITIONS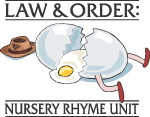 Law & Order: Nursery Rhyme Unit
by Jane Jefferies & Jim Jefferies
Directed by Sue Mandzik
In the fairy tale criminal justice system, the characters from fairy tales and nursery rhymes are represented by two separate yet equally ridiculous groups: the fairy tale police who investigate fairy tale crime, and the fairy tale district attorneys who prosecute the fairy tale offenders. These are their stories.
<< Dun-Dun >>
Humpty Dumpty sat on a wall. Humpty Dumpty had a great fall. Was it an accident or did somebody push him? Let the investigation begin.
Cast of Characters
Detective Green: (male/female, 16+) Investigator of crimes and long-suffering partner of the Punnish Sir
Punnish Sir: (male, 16+) Detective's partner in investigations, can't pass up a good pun
Mare: (female, 16+) - One of the kings' horses, a witness at the crime scene
Old Woman Who Lived in the Shoe: (female, 16+) Has a bunch of children and perhaps a shaky record as a parent
So Many Children: (1 male & 1 female, age 9+) Non-speaking parts, each one identified by a simple costume accessory change
Male playsLarry, Harry, Barry, Perry and Engelbert
Female plays Mary, Sherry, Teri, Carrie and Geri
Doctor Foster: (male/female, 16+) Formerly of Gloucester, the leader of the support group
Beautiful Swan: (female, 16+) Still working through the childhood trauma of being an ugly duckling; in support group
Jack be Nimble: (male, 16+) Working on his self-esteem in the support group
Georgie Porgie: (male, 16+) Slowing accepting the restraining orders being put upon him; in support group
Little Boy Blue: (male, 16+) Dealing with some depression (being blue and all); in support group
Mary Had a Little Lamb: (female, 16+) Imagines that a lamb is following her everywhere; in support group
Little Bo Peep: (female, 16+) Working through the fact that she's lost her sheep; in support group
Sal: (female, 16+) Forensic scientist, pretty hardened by her job
Jack Sprat: (male, 16+) Health-food nut who works out and eats no fat
Mrs. Sprat: (female, 16+) Junk-food nut who eats lots of fat and wouldn't consider working out
Bailiff: (male/female, 16+) Officer who helps move things along in court
Judge Mental: (male/female, 16+) Unstable judge with a short fuse
Prosecutor: (male/female, 16+) Trying to win the case of People vs. Jack Sprat & His Wife
Simple Simon: (male, 16+) Has a rap sheet a mile long (a.k.a. Peter Pumpkin Eater, Wee Willie Winkie, Tom the Piper's Son, and Crooked Man)
Defense Attorney: (male/female, 16+) Has inside info about Simon and willing to use it to win the case
Mother Goose: (female, 16+) Humpty Dumpty's mother; she's a bit…volatile. Honks loudly when mad
Humpty Dumpty: (male, 16+) Almost-fully-grown goose who has had some trouble leaving the nest

Audition Information
Monday, June 27 at 7:00pm
Tuesday, June 28 at 7:00pm
Audition sides will be provided.

No monologues, fees or membership required.
Script available from Pioneer Drama Service.
Rehearsals will begin July 11.
Performance Dates:
September 17, 18, 24, 25
---
Copyright ©2011 Studio Players